The Capital Stack
Silver Lake Hills
Silver Lake Hills comprises 310 units spread across 17 buildings, the property was originally built in 1999 and offers spacious one, two, and three-bedroom floor plans with an average size of 1,113 square feet. There are 95 one-bedroom units, 201 two-bedroom units, and 14 three-bedroom units. The property includes a comprehensive range of amenities, including a fitness center, community clubhouse, pool with a game deck, and a doggie bark park.
How We Found It
Some of you that have been following along may remember we have our 24-unit property, Creekside at Fenton Heights listed for sale with a broker. It is through this broker that we were first alerted of Silver Lake Hills. He let us know that he would be bringing Silver Lake Hills to the market in the upcoming months. The initial plan was for the broker to launch both properties at the same time, as the size and quality of Silver Lake Hills would bring more eyeballs to the area and potentially further interest in Creekside. Long story short, we have built a solid relationship with the broker and were alerted of the deal prior to it being broadcast to the full buyer pool. This gave us the chance to dive into the financial details early on.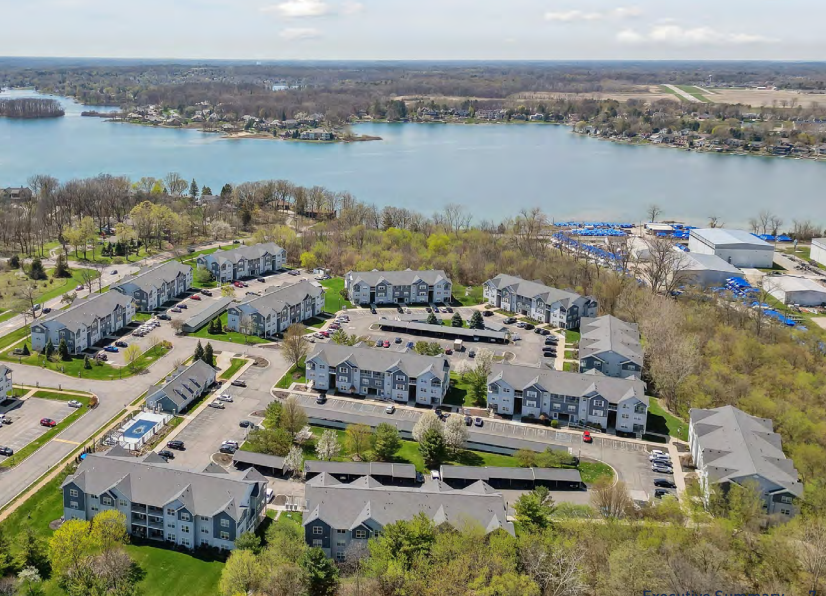 Why We Like It
The Price is Right- Upon digging into financials we were pleasantly surprised with the seller pricing expectations being $40-$45m. At the higher end of this range, the cost per unit is around $145,000. Similar properties have sold upwards of $200,000 per unit, with sales comp average of $146,500 per unit.
Rents Are Below Market- The existing rental rates average $1,250, while the current rent per square foot stands at $1.12. A comparable property located just across the street, with similar amenities and of the same vintage, is achieving a higher leasing rate of $1.52 per square foot.
There Is Value to be Added- Silver Lake Hills offers the opportunity to capitalize on physical and operational value add. As explained in depth below, this property has significant low-hanging fruit.
Unique Unit Mix- Silver Lake Hills is the only rental option in Fenton with 3-bedroom units, making it the ideal choice for those needing extra space.
Location- Silver Lake Hills is in an area that surpasses our income and home value criteria. The area median income is $88,000 and the average home price is $358,000. The surrounding area attracts popular employers like General Motors, Ascension Genesys, McLaren Flint Hospital, and Hurley Medical Center. In 2023 GM announced its plan to invest $1.7B in Flint Area operations further solidifying the area's long-term employment stability.
Market Familiarity- We have owned our 24-unit property in Fenton since 2020, and have learned valuable insights into the operational dynamics of the market. Furthermore, we recently concluded the sale of two properties within a 10-mile radius of Silver Lake Hills. Adding to our market familiarity, the property is conveniently situated in the same zip code and just 10 minutes away from my childhood home, affording me an intimate understanding of the local demographics.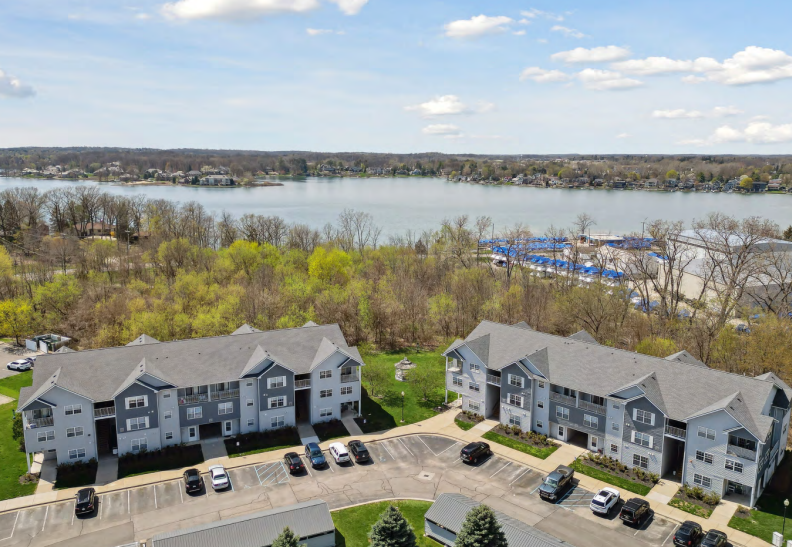 Our Business Plan
The strategy for Silver Lake Hills capitalizes on physical and operational value add. We plan to conduct light renovations, increase rents to meet the market rates, add best-in-class amenities, and implement a fresh local management approach. This approach will involve reducing turnover time to minimize vacancy and bringing groundskeeping and other labor functions in-house to lower/control expenses.
Physical Value Add
At the property 145 units remain in fully classic condition, leaving us an exceptional opportunity to acquire the property and complete + expand upon the proven value-add strategy. Current ownership has partially or fully renovated 165 units and achieved rental increases of $275. We plan to expand upon the unit renovations by implementing an updated design plan that includes granite countertops. We are confident with our renovations we will exceed the $275 rent increases currently being achieved.
We have plans to expand on and upgrade the current amenity package. We plan to incorporate best-in-class spa amenities that include a sauna and hot tub. We will transform the community room with Work From Home Stations and introduce recreational amenities such as a pickleball and basketball court. These amenities are not offered at neighboring properties and will set us apart while simultaneously making Silver Lake Hills the most sought-after property in the area.
In addition to adding new amenities, we plan to upgrade the existing amenities. This includes supplying our fitness center with state-of-the-art equipment and improving our pool area with premium pool loungers.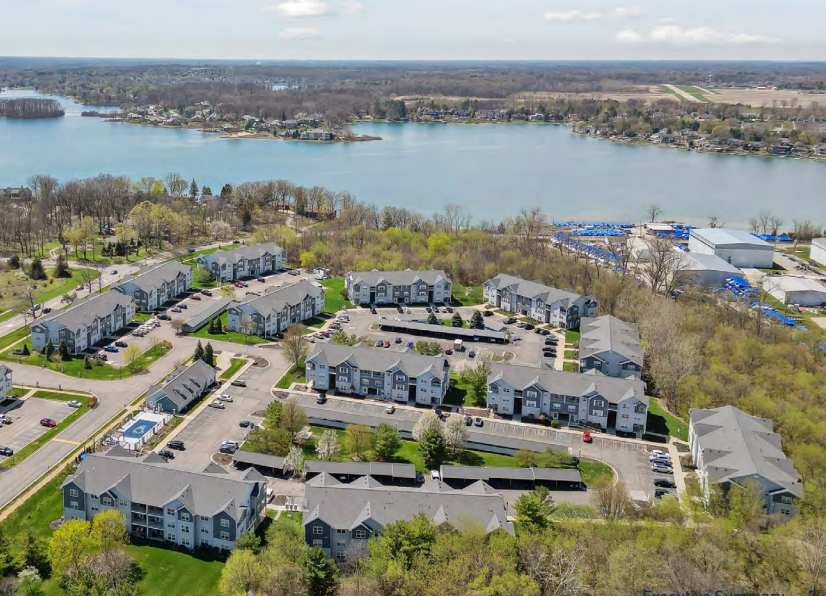 Operational Value Add
The current ownership is based out of state and has been outsourcing the property's maintenance and renovation needs. Our vision involves implementing a localized and hands-on management approach. This shift will enable us to bring the maintenance and renovation needs in-house, resulting in enhanced cost efficiency and time savings. Transitioning to in-house labor for groundskeeping alone reduces our operating expenses by ~50k annually.
Furthermore, our plan includes creating an in-house renovation team. This team will considerably expedite the unit renovation process, leading to minimized vacancy periods. Currently, under the ownership approach, unit renovations are completed within 30 days. With our in-house team, we are confident in achieving unit renovations in 14 days or less.
For simple unit turns that do not require a complete renovation current ownership achieves turnovers in 7-14 days. We are confident our in-house team can complete these simple turns within a 3-7 day timeframe.
To create the best possible experience for our residents we plan to implement a resident-centric management approach. In addition, we plan to collaborate with local business owners for on-site activities like fitness classes, food trucks, outdoor movie nights, etc.
How It's Going Today
After getting our offer accepted it was a long 5 weeks waiting for the contract to be finalized. As of last week, we have a fully signed contract and can officially start knocking items off our DD checklist and raising the needed investor capital.
The Capital Stack
We are going to fund Silver Lake Hills with a 10-year fixed-rate agency loan, 5 years IO, at ~$29m. Our interest rate is estimated to be 5.8%, following the US10Y Treasury + 184bps)
Major Market News
---
Sheffer Capital Under Contract On 310 Units
Not exactly "Major Market News" but we are very excited to be under contract on our next acquisition. Apart from the excellent deal we've found, this property is in the same zip code, just 10 minutes from where I grew up, so we are able to invest in my local hometown market. I get excited about the fact that I personally know many people in the area and will be able to provide the best apartment community that Fenton has to offer for years to come.
Tips and Tricks
Tip:
How To Maximize Value: Capitalizing on both physical and operational value at the same time maximizes the potential of a property. While enhancing the physical aspects such as amenities, and aesthetics improves its attractiveness and competitive edge, optimizing operational efficiency ensures that these improvements translate into tangible benefits. The combination of physical and operational value-add enables a complete transformation that not only increases the overall appeal but also streamlines processes, reduces costs, and ultimately leads to a more profitable venture.